theater
Sponsored performance
Theatre tram
"caries"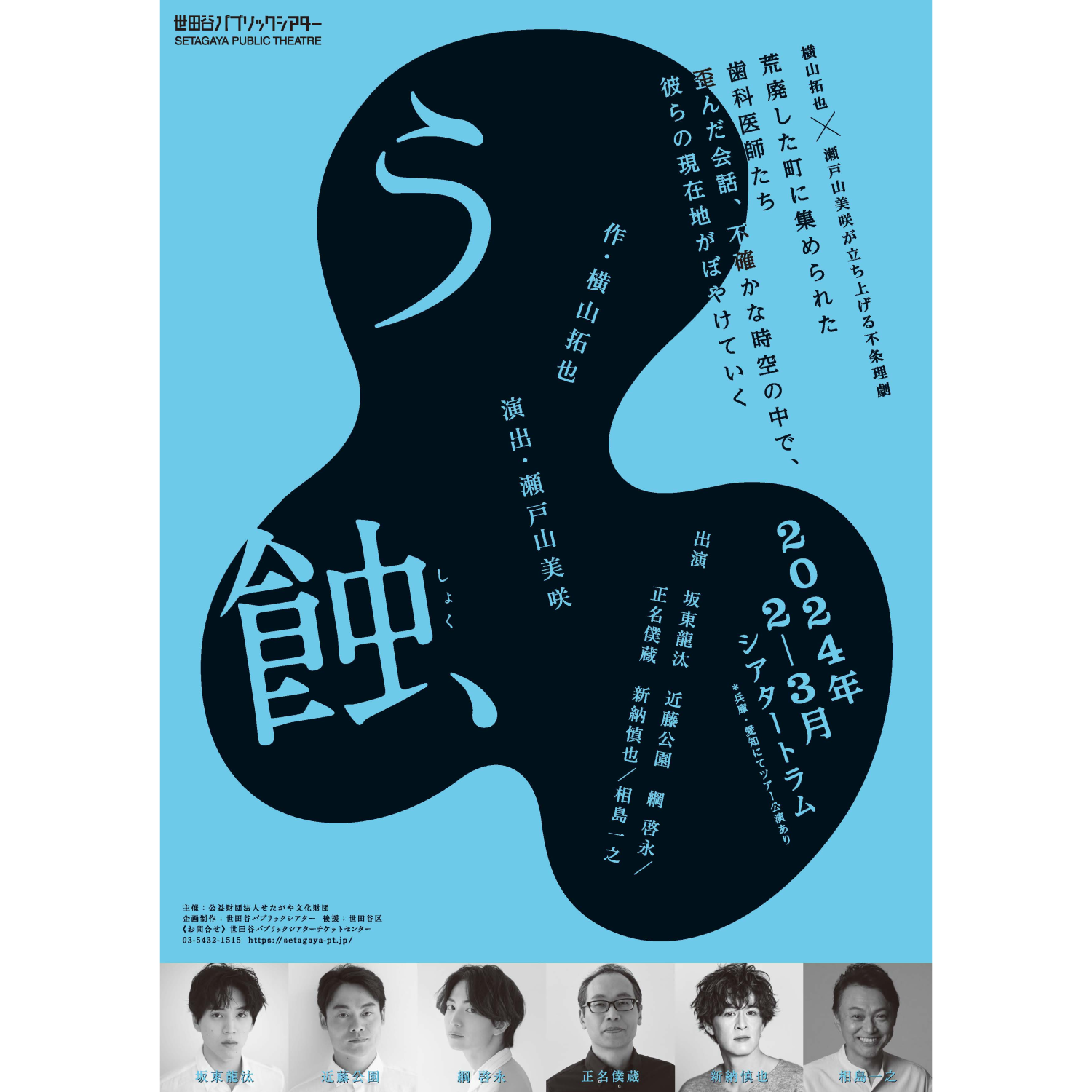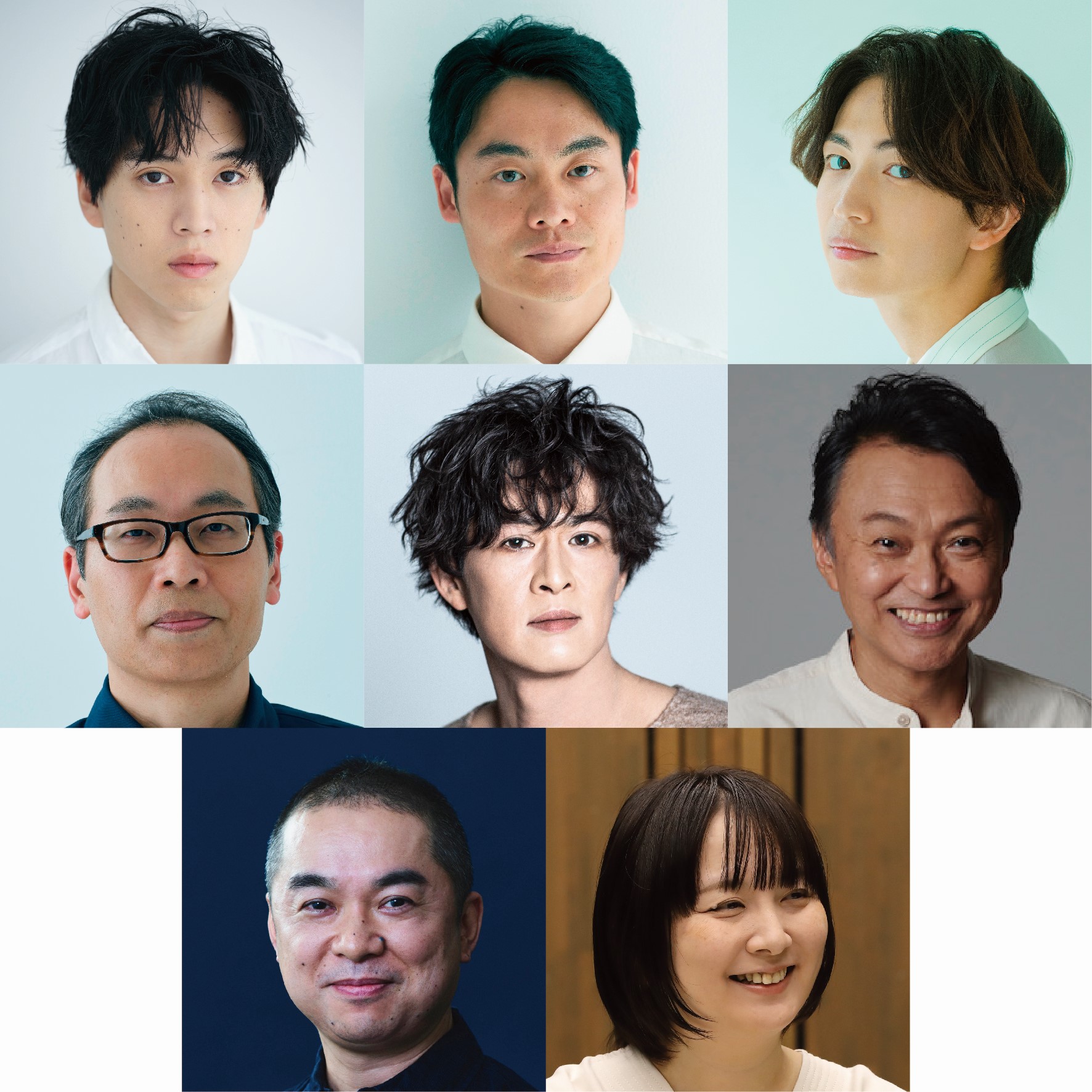 Gathered on a ruined island
dentists
Distorted conversation, in uncertain space-time,
their location fades

Takuya Yokoyama x Misaki Setoyama's powerful tag team, and a dense absurd drama woven by a talented cast of six men.
Performance schedule
2024/02 ~ 2024/03
Venue
Theatre tram
Contact
Setagaya Public Theatre Ticket Centre


03-5432-1515




Business hours: 10:00-19:00 (excluding year-end and New Year holidays)
Overview
Takuya Yokoyama x Misaki Setoyama's powerful tag team creates an absurd drama for men only.
Known for his dramatizations that focus on dialogue, depicting the conflicts between people with different positions and circumstances.Yokoyama TakuyaHe is one of the most active playwrights and directors today, working in a wide range of fields from public theater to commercial theater.Misaki Setoyama.Together, they have won numerous theater awards and continue to make rapid progress in the theatrical world.The powerful tag team has finally come to fruition, and a dense performance by six men based on the motifs of the works of Franz Kafka, Samuel Beckett, and Minoru Betsuyaku. Launch an absurd drama.
A story of dentists gathered on a ruined island
"caries" means tooth decay.
Set on a desolate island, dentists and government officials are gathered to use dental records to identify corpses, and each team investigates why they were brought there and their purpose.In distorted conversations and uncertain space-time, their current location eventually becomes blurred...
``There is a man standing among unidentified corpses in the burnt fields after the earthquake. He is a real doctor who has been trying to identify himself from the scars of his dental surgery.'' Yokoyama still haunts me. A dense conversation play based on the scenery is elaborated.
Competition of 6 talented actors
Dentists gathered in a devastated town have a talented cast.
Received the New Actor Award at the 32nd Japan Film Critics Award for his first starring movie, and has continued to appear in movies and television.Ryota Bando,
Appeared in the works of many directors and flexibly performed a wide range of rolesKondo Koen,
Appearing in topical distribution programs and TV dramas, attracting attentionKeito Tsuna,
A great supporting player who plays a wide range of characters from eccentric characters to calm and collected characters.Bokuzo Masana,
Expanding his activities not only in musicals and straight plays but also in television such as Taiga dramasShinya Niiro,
From serious roles to comical thirds, mysterious characters, etc., he is active in multiple stages, TV dramas, and movies.Kazuyuki Aijima.
Please look forward to the condensed dialogue drama unique to the Theater Tram space.
Comments from writers, directors and performers
Takuya Yokoyama (Author)
I thought that preparing for writing was a solitary task, so this time, it was very refreshing to have repeated meetings to decide the starting point of the work with director Setoyama and artistic director Shirai. It was a thrilling time to build.It's surprising that it became "absurd", and I feel like I've been given approval that I can do something completely different from what I've written so far.Come to think of it, when I was in my first year at university, when I wrote a dialogue novel and presented it in class, I remember being told by a classmate, "It looks like Minoru Betsuyaku!"I don't remember anything about my handwriting at that time, but I do remember that I simply enjoyed writing. I myself would like to enjoy what kind of absurd drama "Caries" will be.
Misaki Setoyama (director)
We will take on the challenge of creating a strange and strange story drawn by Mr. Yokoyama with six very attractive actors.
The other day, I held a workshop where everyone and I read Mr. Yokoyama's past scripts and tried them out, and while it was thrilling, it was also an exciting time that kept us laughing.Are you serious or are you joking?They are wonderful actors who can walk on a fine line with ease.Each person's individuality stood out, and no matter who they teamed up with, there was always something new and surprising, which made me really look forward to rehearsals. We will guide you into the chaos of 6 people.Please stay tuned.
Ryota Bando
It's been five years since I've performed and it's my second time on stage, so I'm nervous now, but I want to do my best.
It will be my first time working with the playwright Yokoyama-san and the director Setoyama-san.I once had a workshop with all the cast, and everyone's plays were so interesting and interesting...!I'm very excited about what kind of script will be already written and what kind of stage we can create with everyone.
This will be my second co-star with Tsuna-kun, who is of the same generation as me, so I'm looking forward to working with him.
I want to do my best not to be overwhelmed by the big seniors, and I want to enjoy it purely.
Everyone, please look forward to next year!
Kondo Koen
I have always been fascinated by plays by only a few men.In a prefabricated hut, with canned juice and cigarette smoke, and a slight smell of sweat, I'm always at a loss.It's easy, frankly.I feel like I can quickly throw away my shame without hesitation than usual.
At the workshop that was held the other day, it was really interesting to see Takuya Yokoyama's lines written by him, and I was told that he would be writing a line play based on an absurd worldview, so I'm really looking forward to it.And how will Misaki Setoyama, who has a wonderful sense of style, watch over and guide the play of the boys (the majority of whom are middle-aged and the age difference of parents and children aside) who have been active in different places?I'm excited now.
Keito Tsuna
This time, I will be appearing on the stage "caries"!
It's been a long time since I've performed on stage, so I'm already nervous, but I'm full of excitement.
There are talented seniors in the cast around me, and I met them once during a workshop for this performance, and they were really kind and friendly. , I think it would be nice if I could absorb a lot of things here and put my own color on it.
I think the most appealing thing about a stage performance is that we rehearse it over and over again, finish it, and then be able to directly show it to the audience.I think there are things that can't be conveyed through the screen, but can only be conveyed live, so I want to make it a wonderful stage period with effort and passion.
Also, I'm really happy to be able to play with (Bando) Ryota, who will be co-starring for the second time.
Please look forward to it!
Bokuzo Masana
"Caries" is a medical term for tooth decay.I definitely thought it was a coined word for this work.With that misunderstanding, when I look at the character for "dental caries," the hiragana letter "u" begins to look like a mysterious and disturbing creature, and I terribly imagine scenes of people being eaten away by the "u." However, when I learned that it was a proper medical term, I understood that it was a title that was in line with the plot.However, the uneasiness of "U" still remains. "Caries" is a somewhat scary title.And since the title already contains Mr. Yokoyama and Mr. Setoyama's intentions, it's scary to realize that.What kind of stage will it be?looking forward to.
Shinya Niiro
When I received the offer for this work, nothing had been decided yet.
It was just "Written by Takuya Yokoyama, directed by Misaki Setoyama, 6 men, tram".I didn't know the content or the role at all, but I felt like my fingers were moving and I immediately accepted the offer.
After that, there was a meeting named "Workshop".A writer, a director, and six actors get together to act out a short script.Perhaps this is for the writer and director to see the character of the actor as they draw the work.It seemed to me that they were starting to create works very carefully.And the chemistry with these six people was already very interesting in those few hours!We are six people who are calm but have strong quirks (laughs).It ended while I was laughing out loud, but what did Mr. Yokoyama see?What kind of world has spread in Mr. Setoyama's brain?I think that the work is created in a way that is close to the idea.At this stage, I can't even imagine what kind of work will be completed, but the performance of my "food finger" mentioned above has been good recently! (lol)
I'm sure you'll be able to deliver wonderful works!Please come to the theater!
Kazuyuki Aijima
A play with only 6 men.Moreover, if you notice it, it has become full of songwriters. He did a workshop once with these 1 people, and that's interesting.The men can challenge Takuya Yokoyama's new play.What a call!As an actor, there is nothing more honorable than a title.Misaki Setoyama directs it.Even during the workshop, he guided us actors with sharp and harsh words while laughing.In the first place, the title "caries" is a mystery.I wonder if it's a scary story.I wonder if it's a funny story.Ah, what kind of stage will it be?First of all, Aijima is more excited than the customer.
Cast staff
[Written by] Takuya Yokoyama
[Direction] Misaki Setoyama
[Appearance] Ryota Bando Kondo Koen Hironaga Tsuna /Bokuzo Masana Shinya Niino / Kazuyuki Aijima
Tour information
Tour performances in Hyogo and Aichi
* Details will be announced on this page as soon as they are decided.
| | |
| --- | --- |
| Sponsorship | Setagaya Cultural Foundation |
| Planning and production | Setagaya Public Theatre |
| Sponsorship | Setagaya |
Contact
Setagaya Public Theatre Ticket Centre
TEL. 03-5432-1515
Official Website https://setagaya-pt.jp/
Business hours: 10:00-19:00 (excluding year-end and New Year holidays)