Setagaya Art Town 2023 Related Events
Acceptance end
-
Talk
performance
Others
Citizen participation
Others
Aim!Inclusive busking project part XNUMX Online talk
As a project related to Setagaya Art Town 2023, this year, in cooperation with the Ricoh Social Contribution Club FreeWill, the "Inclusive Street Performance Project" aims to create a street performance festival and theater performance that anyone can enjoy as a performer or a spectator without borders. ' stood up.

As a first step, what kind of efforts are being made in Japan and around the world?We will hold an online talk to share.

2023th (Tue) July 9 12:20~00:21
Click here to watch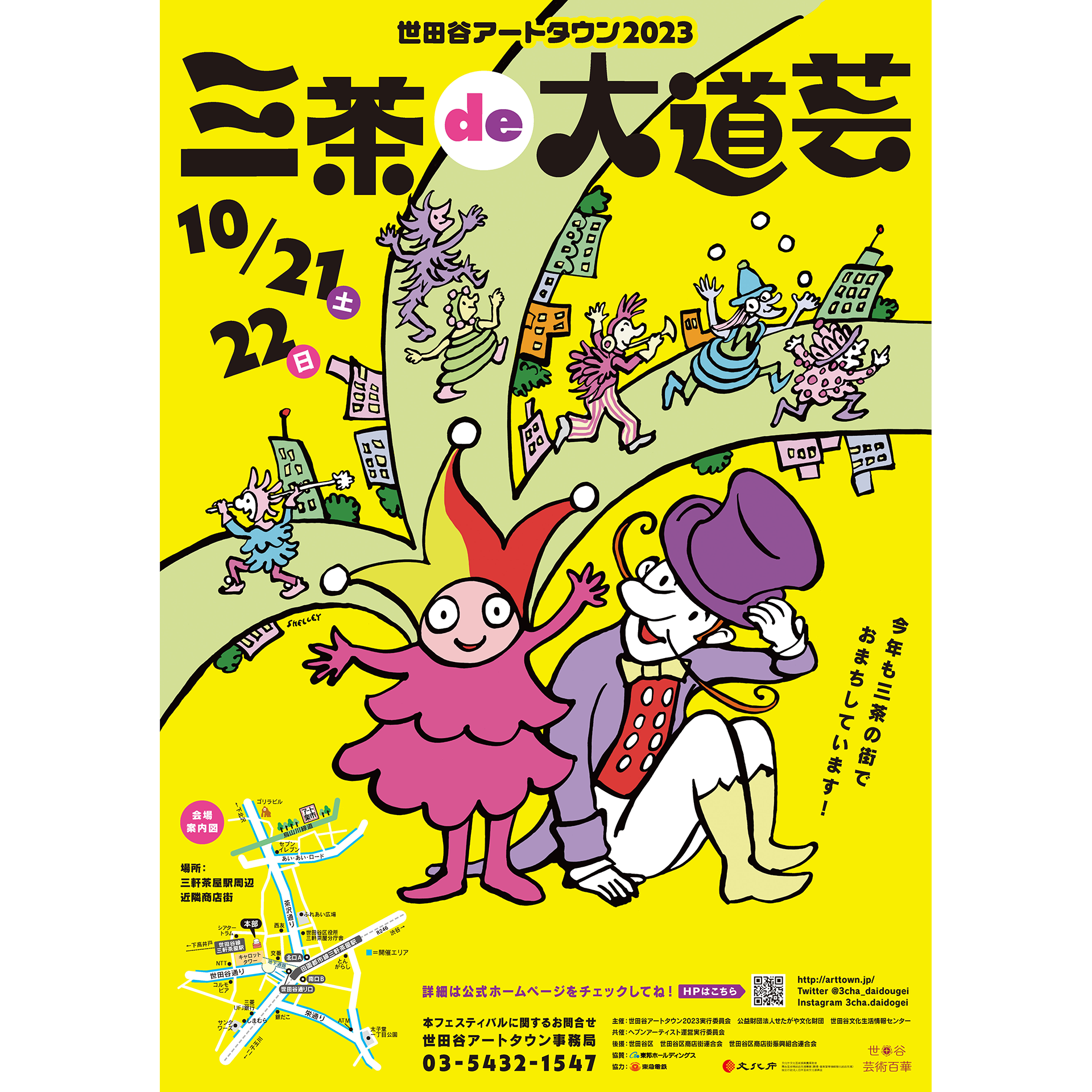 Schedule
2023th (Tue) July 9 12:20~00:21

Lecturer
Keisuke Kanai (Representative of JDS / Director of SLOW CIRCUS)
Hiroko Higashino (SLOW CIRCUS Trainer)
Aki Yoshida (Setouchi Circus Factory Associate Artist)
Uenozora Hanabi (to R mansion)

Facilitator:
Ryoi Kurisu (SLOW LABEL Artistic Director / Tokyo 2020 Paralympic Opening Ceremony Stage Advisor)
Venue
《Online event》
Setagaya Art Town "Sancha de Street Performance" Official YouTube Channel
We will be broadcasting live from.
Click here to watch

*On the day of the event, there will be a question and answer session using the comment section, so please watch it in real time. 
* The archive will be released with subtitles at a later date.Details will be announced later.
Target
Performers, creators and staff performing street performances and theater performances.
Those interested in social circus and inclusive performance activities.
Capacity
None
Entry fee
Free
Contact
Setagaya Public Theater Art Town Manager
03-5432-1526

Overview
As a project related to Setagaya Art Town 2023, this year, in cooperation with the Ricoh Social Contribution Club FreeWill, the "Inclusive Street Performance Project" aims to create a street performance festival and theater performance that anyone can enjoy as a performer or a spectator without borders. ' stood up.
As a first step, what kind of efforts are being made in Japan and around the world?We will hold an online talk to share.
Centered on the people of SLOW CIRCUS, the pioneers of "social circus" in Japan, we have gathered people who are familiar with "Sancha de Street Performance" and Setagaya Public Theater, who are currently engaged in inclusive activities. We will talk about examples of inclusive and social activities that we have done and researched, as well as future possibilities.
<What is Social Circus? >
It is a circus that comprehensively nurtures cooperativeness, problem-solving ability, self-esteem, communication skills, etc. through the practice and acquisition of circus techniques, and is used for the empowerment of minorities caused by poverty, refugees, and abuse around the world.
Program details
Schedule
2023th (Tue) July 9 12:20~00:21
Message
This is the first project of the "Inclusive Street Performance Project," which aims to create street performance festivals and theater performances that anyone can enjoy as a performer or as a spectator without borders.What kind of efforts are being made in Japan and around the world?Online talk for sharing.

Lecturer
Keisuke Kanai (Representative of JDS / Director of SLOW CIRCUS)
Hiroko Higashino (SLOW CIRCUS Trainer)
Aki Yoshida (Setouchi Circus Factory Associate Artist)
Uenozora Hanabi (to R mansion)

Facilitator:
Ryoi Kurisu (SLOW LABEL Artistic Director / Tokyo 2020 Paralympic Opening Ceremony Stage Advisor)
Venue
《Online event》
Setagaya Art Town "Sancha de Street Performance" Official YouTube Channel
We will be broadcasting live from.
Click here to watch

*On the day of the event, there will be a question and answer session using the comment section, so please watch it in real time. 
* The archive will be released with subtitles at a later date.Details will be announced later.
Target
Performers, creators and staff performing street performances and theater performances.
Those interested in social circus and inclusive performance activities.
Capacity
None
Entry fee
Free
 
 
Profile
SLOW LABEL / Authorized NPO SLOW LABEL
An art NPO that works with artists from various fields to unearth issues faced by the community, involve citizens, companies, and governments, and design mechanisms for "things," "things," and "people" that lead to solutions to social issues from the perspective of minorities. In 2014, started a circus workshop for people with disabilities with circus artist Keisuke Kanai. In 2018, with the support of Cirque du Soleil, he contributed to the success of the opening ceremony of the Tokyo 2020 Paralympic Games by fully incorporating the method of "Social Circus".Currently, he founded SLOW CIRCUS, Japan's first social circus company, which will be its legacy, and SLOW CIRCUS ACADEMY for diversity training at schools and companies by about 30 unique members and for discovering and developing new human resources. We operate.
Official site:https://circus.slowlabel.info/
Setouchi Circus Factory
Started activities in Kagawa Prefecture in 2011 as Japan's first specialized transmission base for "Modern Circus".He is a leading figure in contemporary circus in Japan, holding contemporary circus festivals, forming creative bases, and joining overseas circus networks. Since 2023, we have been conducting a social and inclusive circus project with three axes: ``children's mental and physical development'', ``health promotion for the elderly'', and ``creating a place for people who are suffering from social withdrawal.''Aki Yoshida, who will appear as a speaker this time, is a rehearsal assistant for "Fierce 3" scheduled to be performed in October this year, and has appeared in "Goku: The Beginning of Adventure", which was performed in 10. No existence.
Official site:https://scf.or.jp/
to R mansion
He has been highly acclaimed both in Japan and abroad for creating and performing works for theater festivals, street festivals, theaters, events, and school culture appreciation events around the world, from the stage to the outdoors, depending on the location and target age group. In addition to appearing in "Sancha de Street Performance", he has performed many family-oriented works at Theater Tram, such as "Ningyo Hime" (19) and "The Restaurant with Many Orders" (22).Received the 5th Setagaya Ward Art Award "Flying" in the performing arts category.
Official site:https://tormansion.com/
Future plans
10/7 (Sat)
- Inclusive workshops for performers
-Social Circus Workshop
October 10st (Sat) and 21nd (Sun) "Sancha de Street Performance"
-Wheelchair appreciation support
- Juggling experience booth
Details will be announced at a later date.
| | |
| --- | --- |
| Sponsorship | Setagaya Art Town 2023 Executive Committee Setagaya Cultural Foundation |
| Planning and production | Setagaya Public Theatre |
| Sponsorship | Setagaya |
| Donation | Ricoh Social Contribution Club FreeWill |